CO-FOUNDER AND MANAGING DIRECTOR: ANASTASIA KOCH
Anastasia (Tasha) Koch is a biomedical researcher and completed her doctoral training under Profs Digby Warner and Valerie Mizrahi (
IDM, UCT
) in 2015.  Following this, she undertook a postdoctoral fellowship under Prof. Robert J Wilkinson (CIDRI-Africa). Between 2017 and 2020, a Carnegie Corporation DEAL fellowship supported her Junior Research Fellowship within
the Molecular Mycobacteriology Research Unit
, where she maintains a position as an Honorary Lecturer.
Her biomedical research focuses on using whole-genome sequencing and other molecular techniques to investigate the transmission and pathobiology of M. tuberculosis. Tash is a founding director of Eh!woza and runs the organisation's day-to-day operations, financial administration, and strategic conceptual aspects. She is interested in generating innovative impact assessment models applied in the local setting.
I
MPACT ASSESSMENT RESEARCHER: CHELEKA ANNE-MARIE MPANDE
Cheleka Anne-Marie Mpande is a biomedical scientist with a passion for public engagement and science communication. She recently completed her PhD in immunology with the
South African

Tuberculosis Vaccine Initiative
(IDM, UCT), focusing on T-cell immunity during different asymptomatic M. tuberculosis infection stages. Findings from her research aim to contribute to the development of better immunodiagnostics to guide preventive tuberculosis treatment.
In 2015, Cheleka became involved in the Eh!woza workshops as a science facilitator, then lead coordinator of the science workshops, while having a keen interest in Eh!woza's growing projects. Cheleka is building a career around her three combined passions: immunology research, public engagement and science communication. She is currently developing and implementing innovative methods to assess the impact of Eh!woza public engagement projects and effective science communication strategies.
JUNIOR CREATIVE DIRECTOR: SAMUEL FLANS
Samuel Flans
, aka
Innocent Muziq
, was born in Cala in the Eastern Cape in 1996 and is currently based in Makhaza, Khayelitsha. He is an aspiring filmmaker, musician and actor and started producing music while still in high school. In 2015, he joined the Light Spot Entertainment crew and released the five-track EP, All About Music. His most recent music video,

 
Togetherness
, produced in collaboration with Eh!woza in 2020, was well received by fans and highlights his artistic agility.  
Sam began his collaboration with Eh!woza in 2017 with music the video production for his track,
Single Parent
. Since then, he has been working with Eh!woza as a musician collaborator on 
Eh!woza's MSF/Musos/DR-TB
 

project and later as a lead facilitator during Eh!woza's workshops. Sam formed part of a filmmaking training programme and, in 2020, started producing content focussing on the impact of COVID-19 on local communities and broader issues surrounding the social determinants of health and social justice.  Films have been broadcast nationally in collaboration with 
Bhekisisa Centre for Health Journalism
, 
Cape Town TV
and
News24
.
Bianca Masuku is a young black researcher who is passionate about issues that involve young people and their experiences of health and the world and is a Junior Research Fellow at the Centre for Innovation in Teaching and Learning at UCT and a founding director of Eh!woza. She is currently in the final stages of completing her PhD in Social and Medical Anthropology at the University of Cape Town.
Bianca's doctoral research involves close proximity with Eh!woza, exploring TB within the township of Khayelitsha and the young participants enrolled in the Eh!woza project. She explores how residents of this burdened setting configure and construct understandings of infectious diseases therein. Her investigation builds on her broader interests, including youth and health, gender and sexuality, reproductive health, and infectious diseases.
ADMINISTRATIVE AND SURVEY ASSISTANT: ZONDIKAZI MTONJENI
Zondikazi Mtonjeni grew up in Nkanini in Khayelitsha and matriculated at Harry Gwala Secondary School in 2019. She enrolled in the Eh!woza workshop programme for the first time in 2016. In 2017 she was selected to join the programme for a second year and produced the short film
Why Us
. The film tells the story of a woman living in Nkanini and her experience of HIV, TB and sexual violence. In 2018, Zondi presented the film at the
Wellsexuality
symposium at the Wits Institute of Social and Economic Research with critical acclaim.
Zondi is currently a student at the
University of the Western Cape
, completing her Bachelor of Education. She works with Eh!woza as a part-time administrative assistant with financial reconciliations and translations. Zondi also tutors part-time at the Makhaza branch of IkamvaYouth, an NGO specialising in extracurricular secondary education and a close partner of Eh!woza. She finds motivation in supporting others, with all of her work geared towards uplifting her community.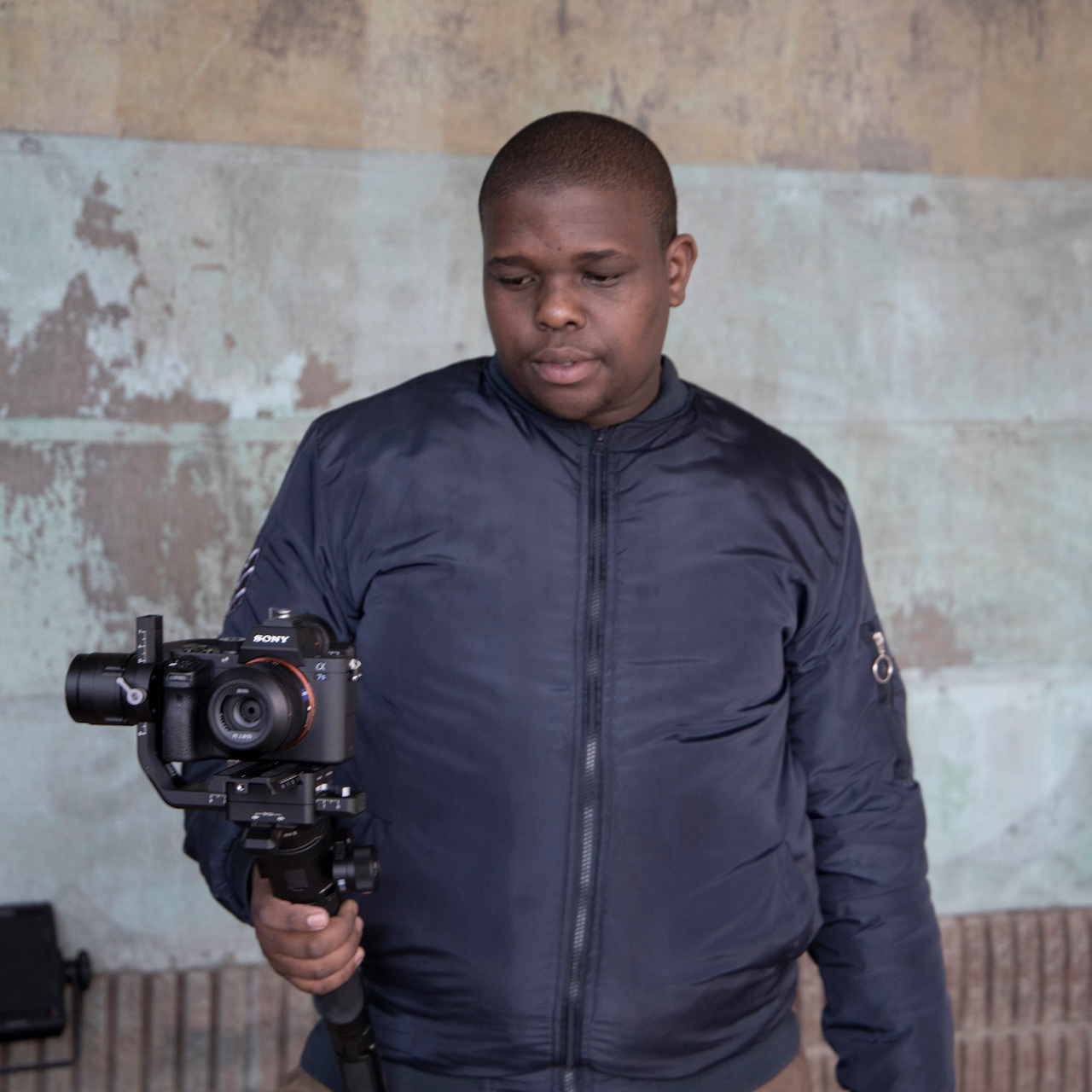 CAMERA/DRONE OPERATOR: ALFA FIPAZA
Alfa Fipaza is a young camera operator based in Khayelitsha, Cape Town. During high school, Alfa enrolled in the Eh!woza doccies project. While completing grade 11 at Chris Hani High School, he produced his second Eh!woza film with Xola Mpakadolo called
We're Still Here
. The project documented former mineworkers dealing with providence claims withheld by mining companies, silicosis, TB and other health issues resulting from working in mines over many years. He has since continued working with Eh!woza, assisting with producing and shooting music videos, such as
Single Parent
and
Togetherness
by Innocent Muziq and
Nquml'umqala
by Abospitter.
ARTIST AND PRODUCTION DESIGNER: MICHAEL LINDERS
Michael Linders was born in Zurich, Switzerland, in 1983 and moved with his family to Johannesburg in 1987. He currently lives and works in Cape Town as a practising artist and a production designer in the film and commercials industry in South Africa, Ghana, Nigeria and Kenya. 
"Migi" has observed the developments of the media workshops since the inception of the Eh!woza project in 2013 and more recently began formally collaborating with Eh!woza as a creative and visual communications instructor on the MSF/Musos/DR-TB/Collab project. His role in the project has been to provide both conceptual and technical support and guidance to set design and production for music videos in his capacity as both an Art Director for
Wigwam
 

and as a visual artist.
ARTIST AND ANIMATOR: MITCHELL GILBERT MESSINA
Mitchell Gilbert Messina
works primarily as a video artist in Cape Town, South Africa. He produces short narrative and conversational videos told through found images, re-purposed 3D models, stock footage, foley sound packs and motion graphics. The works employ improvisational strategies to see themselves through: reacting to google results, producing scenes before scripts, talking to scientists, and knocking .pngs against each other until they make meaning.
His unique visual language led to his collaboration with Eh!woza. Mitchell works to produce short biomedically accurate informational animation series around COVID-19 and more recently, HIV, TB and other relevant health issues. The animations form a free online resource to be shared widely for educational and informational purposes. Mitchell has recently been recruited to Eh!woza on a part-time basis, and together with Cheleka, leads the science communication aspects of the organisation.
MUSICIAN AND TRAINEE FILMMAKER: ABONGILE NJAMELA
Abospitter
(Abongile Njamela) is a rapper, recording artist, poet, and actor from Khayelitsha in Cape Town. His music career was kickstarted by winning the Headwarmaz Hip Hop Show for two consecutive months in 2012 at Cape Town's Bush Radio 89.5 FM. Since then, his music has been aired on various national radio stations. Abo is the current Western Cape Provincial Poetry Slam Champion, and his poem 'Iqhiya" has been selected to form part of the 2019 Solomon Plaatje Anthology published by the European Union. 
His music video
Nquml'umqala
was produced in 2018 in collaboration with Eh!woza. Abospitter works with Eh!woza as a musician, trainee filmmaker and workshop facilitator and is currently working on a new music video release.
Digby Warner is a Professor in the Division of Medical Microbiology, Department of Pathology, at the University of Cape Town (UCT) and a Full Member of the Institute of Infectious Disease and Molecular Medicine (IDM). He serves as Platform Lead: Basic Sciences in the Wellcome
Centre for Infectious Disease Research in Africa
(CIDRI-Africa) and as Deputy Director of the
SAMRC/NHLS/UCT Molecular Mycobacteriology Research Unit
. 
His current research is aimed at understanding fundamental aspects of mycobacterial physiology and metabolism, with a particular focus on the use of molecular and imaging techniques to detect, quantify and analyse M. tuberculosis in clinical samples. Digby provides conceptual, managerial and strategic oversight of Eh!woza, and as a founding director, has closely been involved in its growth and development.
CO-FOUNDER AND MANAGING DIRECTOR: ED YOUNG 
Ed Young
is a contemporary visual artist and a founding director of Eh!woza. He graduated with an MFA (with distinction) from UCT's
Michaelis School of Fine Art
in 2005. Ed has a productive art career with regular international and local solo exhibitions, group shows and art fair presentations and over 15 years of teaching experience, focusing on the discourse of art, video art production, and performance art and conceptualism.
Industry experience includes several years of service film production between 2008 and 2015. In addition to day-to-day operations, Ed manages the creative, conceptual and strategic aspects of Eh!woza, with a particular focus on film production, capacity development, and the production of situationally relevant material. He is currently pursuing a PhD in medical microbiology.